Why people love it
Mediactive® Active 20+ Multi-balm has 100% natural Australian Honey and other natural ingredients for healing, skin care, skin remedy and hydration of lips, face and body. Feel the energy of nature and glow your skin.
Our high potency products are the result of stringent testing and our pursuit of highly active all natural ingredients. These products are manufactured to the strictest hygienic standards, the Good Manufacturing Practice (GMP). And as such we have remained on the cutting edge of beauty and healthcare product development.
All our products are free from artificial ingredients which add nothing to the product's effectiveness, risk allergies and side effects, and are not needed as preservative in products that have antibacterial and anti fungal properties.
Mediactive Multi-balm can be applied overnight, or for brief periods in the evening, to give an energised and softened facial, the best condition for highly effective make-up application.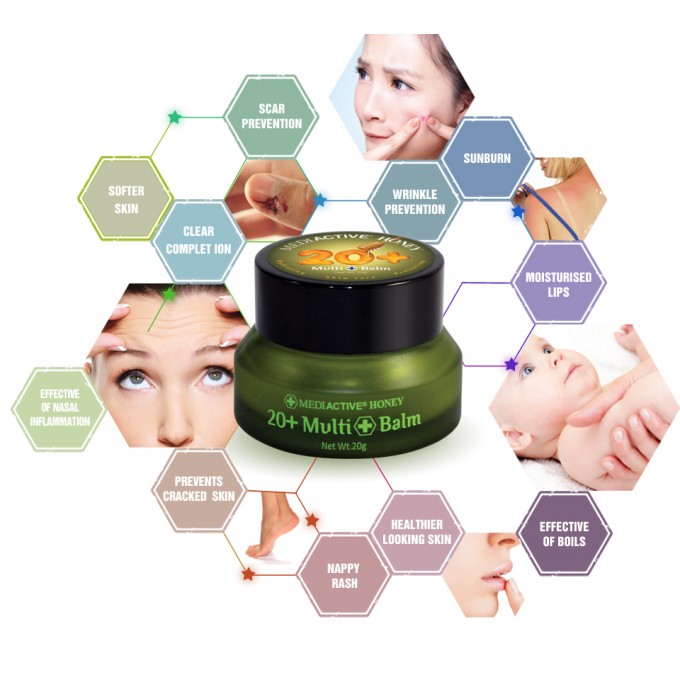 Protecting and Dressing
✔ Scar, minor wound, and burn
✔ Sunburn, Sun allergy
✔ Gravel rash
✔ Broken skin
✔ Cuticle treatment and care
✔ Eczema
Skin Care
✔ Pimple
✔ Baby nappy rash
✔ Skin hydration and nourishment
✔ Furuncle and Rhinitis in the nose
✔ Fingernail and Toenail care
✔ Shaving rash
✔ Makeup pre-preparation
✔ Eczema
✔ Dermatitis
✔ Proriasis
✔ Dry skin
✔ Skin rashes
✔ Insect bites
Soothing and Hydrating
✔ Severe dry lips
✔ Itchy dry skin
✔ Wrinkle prevention
✔ Eye moisturizer
✔ Anti-aging treatment
✔ Chapped or Cracked foot
✔ Overnight Facials