The Multi-balm was everything that was said in the description of the product and I was very happy that it could be used for a variety of areas of the body. I found that after using the multi-balm on the area it would become softer, and it would appear brighter. The fact that the scent of the product is honey makes you feel more inclined to use it again, as it doesn't have a intense smell like some other skin products. I found that it worked more effectively on scars than bio-oil which was a product I used to use.
My family once went to Geelong to have a picnic with God family and friends, and there was a steep concrete hill which was near the picnic area. My family friends had some scooters and they decided that it would be fun to ride them down. They were all able to go down the hill. Unfortunately when I tried, I freaked out and I ended up falling off the scooter and getting large grazes on my knees. It's been a very long time (couple of years) since then and those scars are still quite clear and uneven on my skin tone, until I used the Multi-balm. Multi-balm not only helped to make the scar less obvious but helped in evening out the skin tone in the area. I was not aware that the multi-balm would be this successful in helping my scars.
(The following photos were taken by myself – taken at different days which is why the lighting is different.)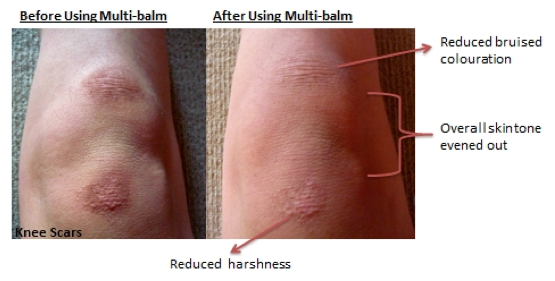 I tend to get some pimples on my face, not as much as many other people but they tend to appear is the worst places, such as my forehead, nose and eyebrow area. But after applying the multi-balm on the areas before sleeping I no longer had the problem of waking up finding a big pimple right on the centre of my forehead. Not only that but it also helps relief oil burns and helps reduce the scarring. Which is really helpful when accidents occur while cooking. It can be applied even a few days after the burn and will still help reduce the scar and redness. I would apply the multi-balm about 3 times throughout the day if you are reducing an old scar. Usually it would be in the morning, the afternoon and at night. (The following photos were taken by myself – taken at different days so the lighting is different.)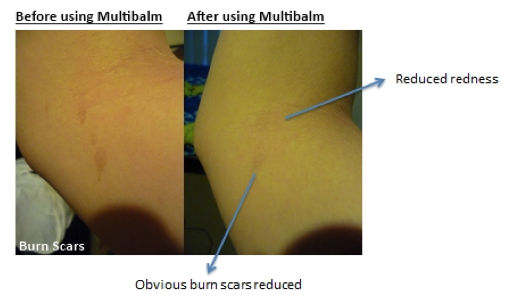 My brother has chapped and dry lips and after using the Multi-balm product he found that it worked just as effectively or better than many other lip balms out there, he said that the way it moisturised his lips was different to using a regular chap stick. It also helped out the rest of my family members as the multi-balm also moisturises dry skin, which is a problem we all have. The fact that it smooths the texture of the rough dry skin on the heels, face and arms effectively makes it a more frequently used product at home. I definitely recommend people to buy this product as it can do so much more than moisturising. It is a adaptable product and people who have trouble with scars, pimples, dry skin and chapped lips will be able to find use of it. Since the size of the multi-balm is fairly small it would make it easy to keep in your bag when travelling, or if you want to apply the product when you are out and about. Multi-balm definitely caught me by surprise with what it could do, which is why it is a really amazing product !
As a student, most of my nights are spent studying or working on assigned work, hardly leaving enough time to follow a rigorous skincare routine to take care of my body. Especially due to the fact that I am a senior student working towards her high school certificate, my skin has been suffering immensely with erratic breakouts leaving scars that are hard to remove. So when I heard of the MediActive honey multibalm, I knew I had to try it out for myself.
The benefits of honey are amazing, with its' antibacterial and antioxidant-enriched properties, it is perfect for my combination acne-prone skin and dry, chapped lips. Before when I had time to pamper myself, I would most usually opt for a honey face scrub/mask made by mixing honey and raw cane sugar. However, this face mask is incredibly messy which would leave sticky spots all over my flooring. But this honey multibalm makes the job so much more easier and perfect for people who are short for time but still wants to take care of their skin.
The 20+ Honey Multibalm is a versatile balm suitable for your lips, face and body for all skin types, conditions, ages and budgets- which is really important for an unemployed student like myself!
If you are someone who prefers natural products for your body, the balm is made up of 30% Mediactive 20+ Australian Honey, Olive leaf extract, chamomile extract, shea butter and more which are all proven to work wonders at moisturising dry skin and forming a protective layer to stop exposure to harsh environmental factors like dust and pollution. My skin has miraculously stopped breaking out since I have first used this product.
The balm also contains aloe vera and rosehip oil, natural remedies that are famous for its'
skin healing and regenerative properties to help promote skin elasticity, hydration and pH balance. Many brands have sought to produce their own rosehip oil products but often it costs a hefty price people on a budget can't afford to buy, but luckily Astragrace infused all the nutrients and popular skin healing ingredients to make this affordable and effective multibalm!
Personally, I use the multibalm as a form of skin care and makeup base and it works amazingly to correct spots and provide immense hydration.
Packaging: The box itself is made of recyclable cardboard to help keep the environment clean! The travel-friendly jar is made of solid and sturdy tinted glass to keep the nutrients in the balm from going bad. People might find that the jar is inconvenient to carry around because it is heavy but it is essential to keep the ingredients fresh. The screw on cap stops the product from drying out which I love to make sure the product works to its' optimal best. [PIC: COLLAGE 1 - shows sturdy packaging]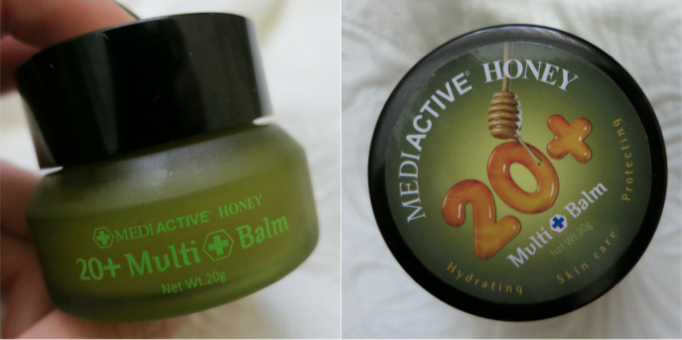 Colour/Smell: The balm looks and smells like solidified honey which is very pleasantly sweet and makes me happy every time I use it, which helps with my diet as it satisfies my sweet tooth. It does contain a slight medicinal smell but nothing that can deter you from using this product as the benefits are great!
Texture: The balm is slightly thick but easily melts onto the skin for instant hydration. I find that the balm leaves a modest glow on the skin, allowing you to achieve the perfect healthy looking face which is the best for makeup preparation.
Product: This balm works amazingly for my skin, especially my face region. It is non-sticky, making it hassle-free compared to a dripping face mask, yet it delivers even better results! This product is perfect for busy people as it is easy to use and allows for fast application without needing it to be washed off.
The multibalm is great for night time as it is thick and acts as a moisture barrier, perfect for use as a night cream.[PIC: COLLAGE 2 - Slightly thick for instant hydration which is perfect for cold weather and every skin type]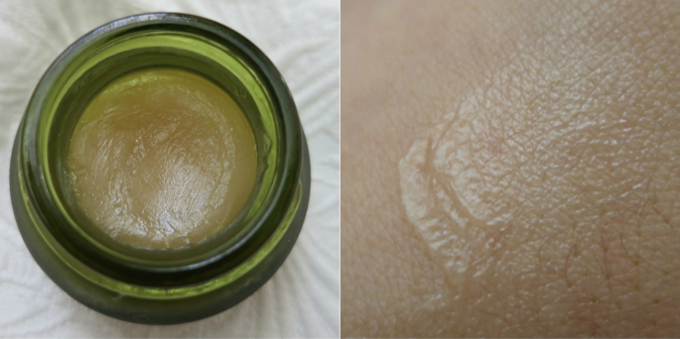 Results:
Lips:
There is rarely a moment where you can see me without lip balm or any sort of lip product since I naturally have very dry and chapped lips. On top of that, my lips are very pale and devoid of any colour which leaves me looking tired and ghastly. I used to use Vaseline but it absorbed too fast, leading me to reapply time and time again, making me very frustrated. However, after using MediActive 20+ Honey Multibalm, the results are instantaneous. Lips are visibly glossy with a natural and healthy sheen, leaving soft and supple lips without cracks. The hydration lasts longer than any other lip balm I have tried. And because of the honey in the multibalm, your lips are left tasting delightfully sweet! But not to the point where it is overwhelming, the scent and taste is perfectly balanced.
(PIC: COLLAGE 3 – Results of using multibalm left lips soft, glossy and supple, minimising and hiding cracking, fine lines and dry spots)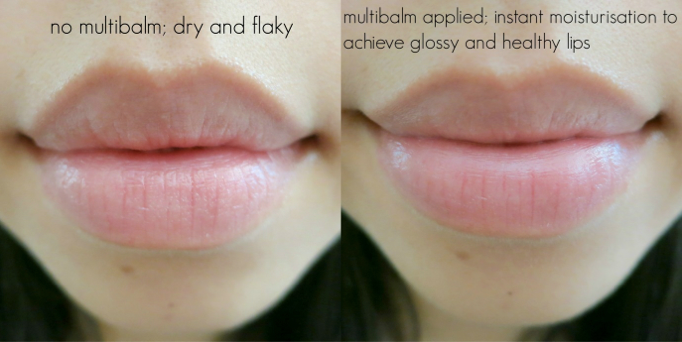 I apply the multibalm at night and I like how it does not absorb quickly as it acts as a moisture barrier to help retain and keep my lips hydrated. I now wake up with smooth lips that are ready for makeup!
On top of that, by using the multibalm underneath your lip makeup, the colour is more vibrant, applies easier and stops the product from drying out your lips. Lipstick is applied more evenly, lasts longer which results in plump and healthy looking lips. The end results can speak for itself. (PIC: COLLAGE 4 – Lipstick applied on the top lip has a more even application, resulting in vivid colour which leads to makeup lasting longer)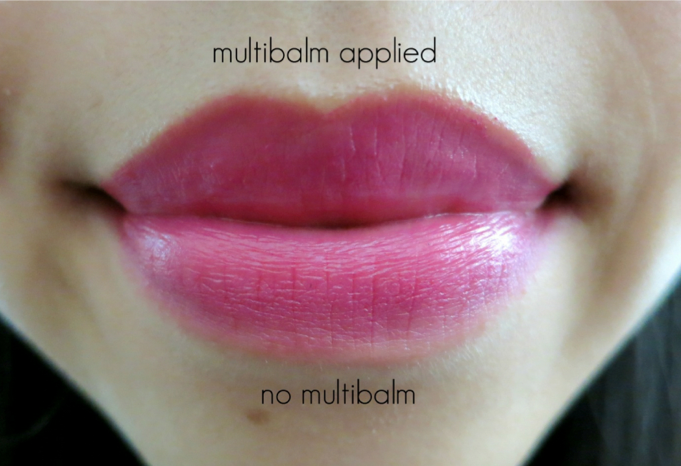 Body:
My elbows are possibly the driest part of my body and the colder the season, the more cracked it becomes. And with the dryness, skin becomes itchy leading it to become more withered which sometimes results in bleeding. Luckily, the results of multibalm are quick as it leaves skin feeling moisturised and shiny for a healthy look! (PIC: COLLAGE 5 – Dry and cracked elbows are more shiny, glossy and moisturised for healthy looking skin to minimise any pain or uncomfortable crackling!)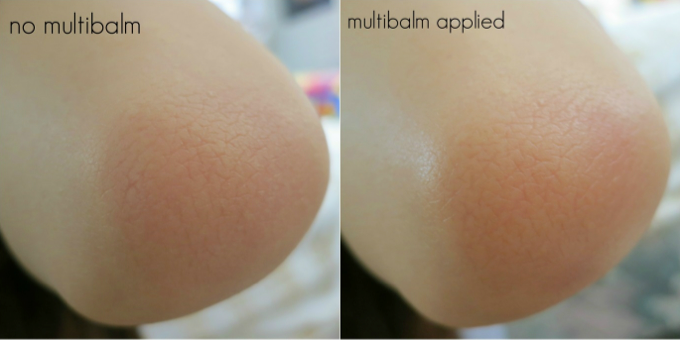 Skin/Acne:
As a teenager, I get a lot of hormonal acne which results in big pus filled pimples. When I heard that the multibalm works for shrinking pimples, I applied it on straight away and after a few days, my pimples were gone! Along with that, the redness on my cheeks are lightened and my acne scarring was diminished, leaving me with almost flawless skin. This is perfect for individuals who are suffering from acne and want to lighten acne scarring. Pores are smaller and blackheads are minimised due to the natural ingredients of pawpaw extract and rosehip seed oil. After a few days of use, my mum complimented me on my skin and said that it has improved a lot since my last acne break out. She wondered what new product I was using and when I showed her the Multibalm, she started using it too! (PIC: COLLAGE 6 – My big cystic pimple is gone and redness is diminished for flawless and youthful looking skin to boost confidence!)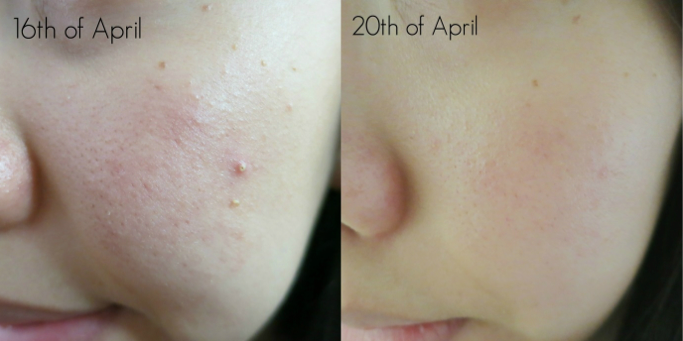 I also have random dry patches on my cheeks due to my combination type skin. The honey and aloe vera/shea butter extract in the multibalm is perfect for soothing and moisturising as it can help prepare the skin for makeup. A healthy, glossy and soft base is essential for

makeup that looks natural and good as there is nothing worse that makeup that sinks into fine lines and dry spots. (PIC: COLLAGE 7 – Dry and dull skin is now radiant, soothed and moisturised to help prepare for makeup on the day) The antioxidants in the olive leaf extract promote radiant skin and prevent free radical damage to achieve a flawless makeup/skin base!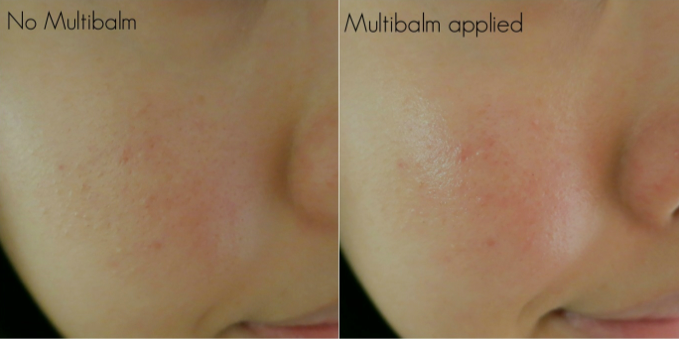 (PIC: COLLAGE 8 – The difference between wearing makeup without and with the multibalm is enormous! Dry and patchy skin gives an untidy and unhealthy look while having a moisturised base makes your makeup last longer and looking natural. Makeup cannot work to its' optimum on unprepared skin as it can dry your skin even more)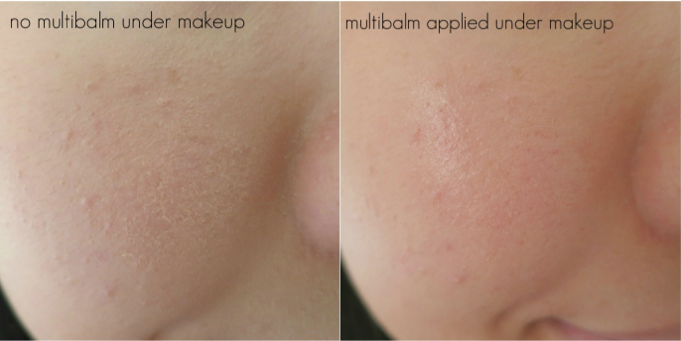 Cuts:
As a student, I regularly get paper cuts from flipping school books. When I apply the MultiBalm, it forms a protective antibacterial moisture barrier to quickly soothe and heal skin.

With cuts, I would want the balm to be non-sticky so it won't get on my worksheets and books. Luckily, the multibalm adheres well and does not transfer when applied.
The antiseptic and antibacterial properties of honey allowed my cuts to be healed quicker to reveal soft and supple skin!
Conclusion:
I love this product so much for my lips and skin, I will continue to purchase this most definitely!

The smell of this product is something I think that anyone

can enjoy, as it is not too strong and has the smell of honey, which is pleasing. The texture is smooth, a bit sticky but this was expected, I think it felt nice on the skin and was not difficult at all to wash off, the smell also did not stay.
I kept the product on my skin for a few hours (I had no clue how long to keep it on for) and had no reaction to it at all, and there was no itching or redness afterwards which I have a problem with when using some other products.
After a few days I did see a change with the acne scars on my forehead and chest. The redness has gone down and also the acne/pimples that were there have shrunk in size. These pictures were taken from day 1 to day 10. (Taken with my Iphone camera, lighting is not perfect)
My scars and acne were deep in colour and I feel like that Multi-Balm had helped it calm down and lighten. Also acne went down in size. I feel that this product has definitely helped with the healing process of these scars and acne. The scars on my chest were my biggest problem and I have been insecure about for a year now since they are recent. I don't think the pictures do it justice but the scarring has definitely gone down in colour and this is what I'm most happy and excited about. I can finally stop wearing clothes that go high up enough on the chest to cover the scars.
I feel a lot more confidant and will like to thank Multi-Balm for it! I will definitely recommend this to friends and family, and I will also most definitely continue to use it and buy the product! I wish I had more time to review it as I think that the results will just become better and amazing. Thank you.
When I received the Multibalm, the first thing I noticed was the cute packaging which was very compact yet contained a lot of product, so I knew I could easily take it around with me at all times. The product has a strong honey smell and is of a sticky consistency.
I've suffered from recurring eczema and have tried many products yet the condition would always return. I decided to test the Multibalm on various spots to see how well it worked; especially after seeing the other reviews, I was excited to see if it was really worth the hype.
My main problem area is around my lips where I suffer from eczema most prominently to the point where I've even had to see multiple doctors and dermatologists for treatment. I used the multibalm daily for a week and I was astounded to see visible results after 2-3 days. The eczema had cleared up almost immediately and my lips haven't been itchy which is a huge relief for me. Although it is still a bit red around my lips, I can proudly say the eczema is basically almost gone and hasn't reappeared like it usually does even after having used a dermatologist prescribed ointment.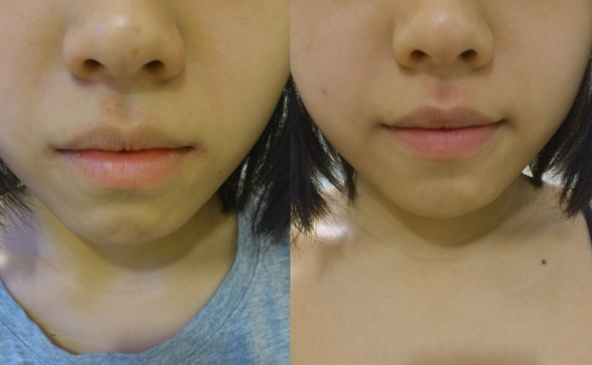 Aside from the eczema, my lips are usually dry and cracked especially now that it's
colder, but after using the multibalm throughout the day and every night, I wake up to very hydrated and soft lips. Due to the eczema around the corners of lips, if I open my mouth too wide the sides tend to split and sting very badly. When I applied the product, it acted as a soothing dressing and eventually my dry skin healed in that area and it no longer splits. As I have a habit of occasionally licking my lips (it makes them drier I know -_-) the sweet taste was very pleasant.
I also have an eczema patch around my eye but until now I've been too scared to use
any products around my eye as the skin there is very delicate and most products have chemicals which could potentially damage the skin. It was a risk I was not willing to take. I would usually just apply Vaseline but it did not do too much for me. Seeing that multibalm is made from only natural and organic ingredients, I didn't hesitate and used it around my eye. I was not one bit disappointed! The eczema patched cleared up in just 1 day and has not reappeared since!
My aunt had a few wounds on her leg so I recommended she try out the multibalm. The next day, she told me the redness was gone and she could see it was already healing and there was no scarring. She likes the product so much, at times it would go missing and surprise surprise, it would always end up in her room haha!
Overall, I'm very pleased with this product and would happily recommend it to others who also suffer from similar conditions; even to those who just want better skin! The sticky consistency was a yes and no for me at first, I didn't really like the feeling of having something sticky on my face. But after using it a couple of times, I got used to it and the product is very easy to apply. I know it's not food, but I have to admit, the sweet taste is definitely a bonus haha!
20+ Multi Balm Review
The 20+ Multi Balm is suited for chapped or dry skin on the lips, face and body- all skin types, skin conditions. Using this product, you can achieve healthy and radiant skin.
The packaging
The box packaging has a good amount of information on it and it comes with a small booklet with more info. I think it is quite thoughtful to translate it to four other different languages than English as some people might not understand. Everything looks reliable. The product packaging itself is made out of glass, which makes it more seem professional. However one of the cons to it is the lid. It is really hard to open especially with with freshly moisturised hands. Great sized product and it is portable to take around with you.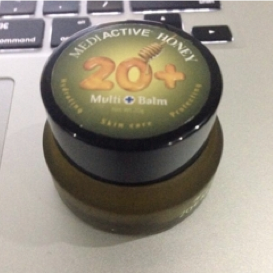 The scent
The multi-balm smells like natural honey, unlike most honey flavoured products which end up smelling too artificial.
The efficacy
As the season is slowly changing into winter, one of the most annoying problems is dry,chapped lips.
After using this multi balm religiously for a few days, I noticed that my lips weren't as chapped as before and didn't need lip balm as much.The product goes on smooth without clumping up.
I've also used the multi-balm on my acnes, and after applying it every night for 3 nights, I noticed that they have been fading away and becoming less noticeable. My skin started becoming more healthy as well
The staying power doesn't last very long, meaning you may need to re-apply to the lips after eating a meal.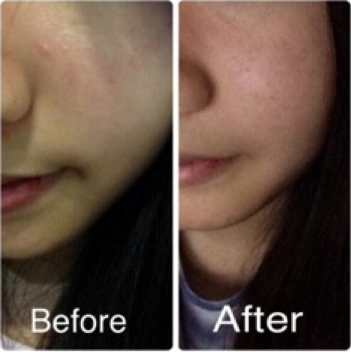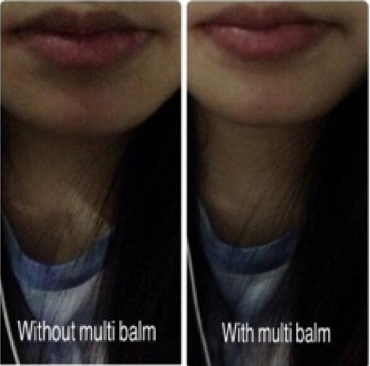 It contains shea butter, which does wonderful job at keeping your lips soft and hydrated. Honey is naturally moisturising, healing and a natural source for versatile skin care solutions. Aloe vera is high in vitamins and is soothing for the skin and due to it's high water content, it is a great way to hydrate and moisturise the skin. Other natural ingredients has a rich source of antioxidants and other nutrients and can soften skin.
The consistency is really thick so it takes a little longer than usual to speed it out evenly.
Overall, it is a great product which is suitable for all skin types and conditions and can be used on the lips, face and body. I would rate this product a 8/10. It makes my skin feel healthy and soft. The multi balm does what it's supposed to do.
Karen Liang
NOTE: None of the photos were altered in ANY WAY. I was not wearing makeup in any of them, none were edited or filtered (except for the one where I cropped the picture) and most were taken in similar lighting as to preserve authenticity. Also, I'm not sure how the pictures or format of this will look other than email so I apologise in advance.
REVIEW
I've had quite bad skin my whole life (eczema and just altogether dry skin) which meant that I've always needed moisturisers and creams to handle it. Recently, before multi-balm, I had been using QV and paw paw ointment but switched as soon as I received multibalm.
First impressions – The texture of it is really nice, and is amazingly moisturising to the touch. It smells amazing, (because of the honey) and contains many natural ingredients good for the skin.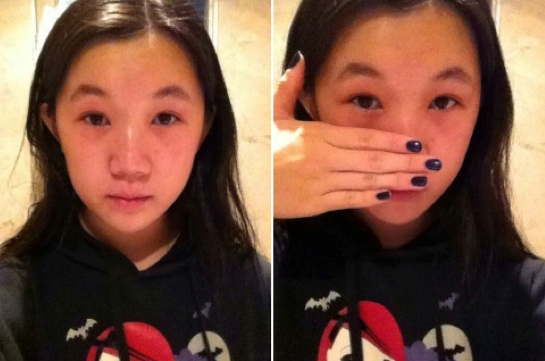 (as you can see, the skin around my eyes is usually red after showering which is when I need to moisturise the most.) The second picture compared the redness to the normal colour my skin usually is, aka my hands.
Note: these first two tests were done when my skin was at its absolute peak of sensitivity and is an indicator for effects for people with EXTREMELY sensitive skin, moreso than normal.
First application: 11:47pm 17/4/14
Mainly I was using this on my facial skin (since those were the 'problem areas' where my skin was acting really dry recently) and applied a layer on my lips and facial skin (around my eyes). Felt really nice and soothing on sensitive skin at first application.
Effects (FIRST DAY):
Lips: absolutely amazing, lips felt moisturised throughout the whole day and this is saying something since my lips during that time were so chapped and usually I had to reapply lip balm regularly through the day.
Skin: granted, this was a time when my skin was pretty bad so it might have been just me but a few hours after the application, the skin where it was most sensitive started to feel kind of itchy and the next day it was quite irritated and red until it faded a few hours after I woke up. However, the moisturising level of multibalm is amazing and though my skin was red, it was quite moisturised, much much better than any moisturising lotion.
Second application: 11:59am 18/4/14
The sensitive skin above my left eyelid was stinging after applying multibalm. Stinging went away after a few minutes. (Note: I actually had this happen to me before with 'sensitive' moisturisers such as QV, but not with paw paw ointment.) Other areas where I applied multibalm felt fine.
Effects (SECOND DAY):
At this point, I nearly felt ready to give up on multibalm (on my face) because I felt as if my skin was just /too/ sensitive to actually benefit from it. The itchiness that happened a few hours after application in my first trial run also happened to me in my second, and the same
irritation occurred throughout the night the second time too, judging from the redness in the sensitive areas of my face the next morning.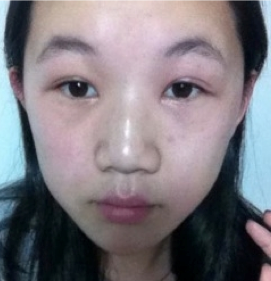 This was taken the morning after the second multibalm application and though you cant really tell from the picture, my left eyelid was actually a little swollen, and the redness that usually goes away in the morning (since it only comes after showering with hot water) was still prevalent, though not as bad. On a side note however, my lips felt 10/10 from multibalm and works great as a lipbalm.
MINI REVIEW ON JUST THE EFFECTS OF MULTIBALM ON MY LIPS -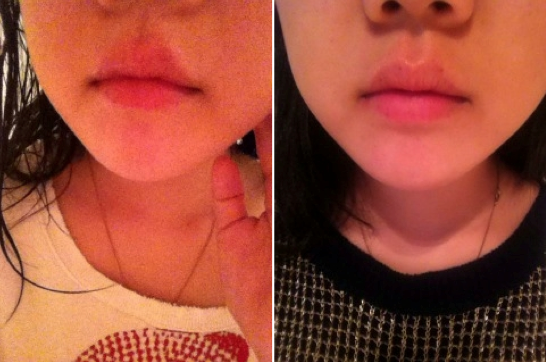 Left: Before
Right: After ONE DAY.
Around the same time I tried multibalm, the skin around my lips were so dry, not even just chapped but I usually needed regular applications of lipbalm since it would just get dry so easily and quickly. Also, the skin just above my lips were quite sensitive to the touch (painful) and were slightly cracked in that aspect as well. Usually the area above my lips would be a bright red colour (which you can kind of make out from the first picture) and I needed to constantly apply a moisturiser to that area as well but once I tried multibalm on it, amazing things happened.
The picture on the right were my lips the DAY AFTER I applied multibalm on it the night before and multibalm was just magic on it, the sensitive skin above my lips was close to gone and my actual lips felt so smooth and soft as compared to it just the day before. The moisturising effect lasted close to the whole day (I still re-applied it the night after) and wasn't drying even in wind, which usually happened to me a lot in Autumn.
If anything, despite multibalm not working well with my super sensitive skin phase, multibalm on my lips absolutely made up for it. It is an AMAZING product and I cannot recommend it enough, even if you have the worst, chapped lips, one application of this and amazing things will happen.
Note: if you look closely, the area around my lips in the second picture here is still slightly pink but in my more recent images for this, it is absolutely gone.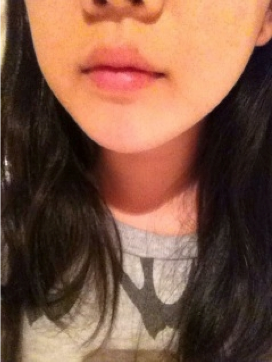 (As of 27th April 2014)
- SKIP FORWARD 5 DAYS -
I waited a few days, not using multibalm on my skin (as I thought there might be something wrong with just me and multibalm) and went to try it again when my skin was actually much better than it was before in terms of just sensitivity and dryness. (During this time, I did my normal skin care routine, same as before I tried multibalm)
After these few days, I tried it again.
MUCH MUCH BETTER RESULTS. I think the problems I experienced before were because of my skin rather than the multibalm being 'bad' because when I tried it again, it worked so much better, no ill side effects at all. I still had rather dry-ish skin, because that will never leave, but multibalm worked well to correct that.
I would usually apply it after showering, and the redness that usually appears disappeared much quicker than before. Around 10 minutes after showering, the colour of my skin was normal, when it would usually be around 1 hour before that happened when moisturising with any other products.
I would continue this for a few days, seeing if multibalm would once again fail me but the results were satisfactory time and time again and over time, my skin started feeling much less dry and red as a result.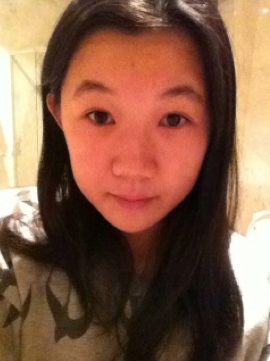 This photo was taken 27th April 2014, the redness around my eyes has lessened dramatically, and just overall the skin in my face feels smoother.
Just extra notes on multibalm and applications on my face:
- I have seen the fading of some old acne scars recently, but that only happened after multiple applications of multibalm over a period of time. Also, the scars are still there, just lighter.
- No worries over acne breakouts with multibalm, although the balm itself may seem quite moisturising and oily in texture (as it leaves the skin with a distinct shine after application), the ingredients are natural enough that acne is not a worry.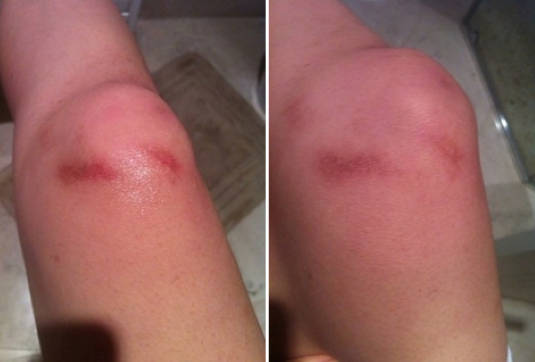 LEFT: BEFORE (skin is shiny since photo was taken after application)
RIGHT: AFTER 7 DAYS (of continuous application of once daily, during the night)
Since I thought my acne scars on my face were disappearing over time with multibalm application, I tried using it on an old scar I had gotten 3 years ago from falling that has failed to fade at all. Needless to say, I was IMMENSELY impressed with this. The scar on the right of the knee has faded much much quicker than it has before with no application of anything and the scar on the right is also fading, but at a slower rate than the scar on the left.
OVERALL RESULTS:
Multibalm is an amazing product. If you have EXTREMELY sensitive skin, then proceed with caution, (as it did not end well with me and my skin) but otherwise, even on sensitive skin, multibalm works really really well. It has replaced all my other products when it comes to moisturising (I think its because of the honey in it) and has many other uses which I am still trying to discover. From the time that I was able to test it however, It has continuously surprised me with what it can do, especially on its ability to fade stubborn scars as well as its positive impact on my skin. Absolutely recommended to all skin types.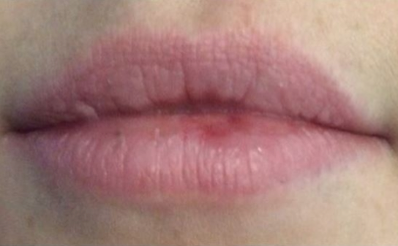 BEFORE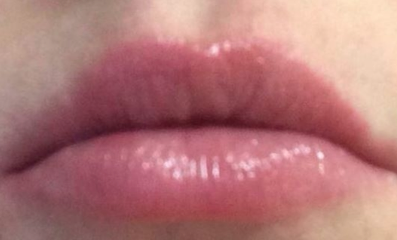 AFTER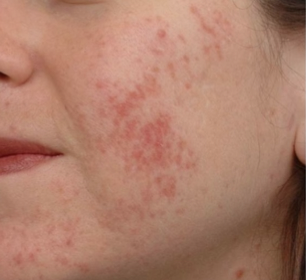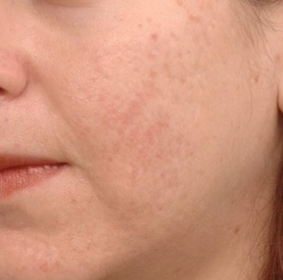 This really is a miracle balm! It is super moisturizing, keeps my lips moist and comfortable. I have dry lips and with the weather getting colder, I am most irritated with cracked lips. Thanks to mediactive honey 20+ for soothing my cracked lips, they
quickly are healed.
My cousin who has pimples marks issues on her face has also applied some mediactive honey 20+, after a few days, her skin is getting better (please see picture attached).
Love the fact that it has all natural ingredients, especially the honey scent, I absolutely love it.
I highly recommend this — It's 10/10 multibalm!
With thanks,
Ivana
Mediactive 20+ Multi-balm
What is Multi-balm?
Multi-balm is a gentle versatile skin care solution for all skin types and skin conditions of all ages. As the name suggests, it can be used for multiple purposes such as soothing sunburns, eczema, nappy rashes, chapped lips and dry skin. In addition, it can also help with wrinkle prevention and act as an eye moisturiser.
Ingredients: 30% Mediactive 20+ Australian honey, olive leaf extract, chamomile extract, pawpaw extract, rosehip seed oil, aloe vera extract, shea butter.
As a Lip-balm
Multi-balm works great as a lip-balm, it immediately moisturises and soothes dry lips and I love the honey rich smell. I'm not sure about everyone else but whenever I put on lip balm I tend to ending up tasting some of it, usually through absent-mindedly licking my lips, eating food or drinking water. This usually results in a weird artificial taste. However, this multi- balm has no after taste at all, most likely due to its large use of natural ingredients.
The multi-balm also lasts for a long time and if you are using it as a lip balm, you really don't have to reapply it much. Maybe once every 8 hours would be enough. I used it before I went to sleep and when I woke up, my lips still felt nice and soft.
Treating Scabs
I had a small scab on my nose and after applying the multi-balm daily for around three days, it had mostly disappeared. Now it may have just been my skin healing itself, but multi-balm definitely sped up the process
Treating Pimples
As the multi-balm is a heavy moisturiser, it is best to apply it on pimples after you have cleansed your skin of oils and any residue. Now keep in mind that this is not some miracle banisher and it cannot just make a pimple disappear overnight (unfortunately). Instead I found it worked best when applied on pimples after the initial inflamed stage or after you have popped them as it helps heal the skin faster. As you can see in the photos, multi-balm helped the little bumps disappear.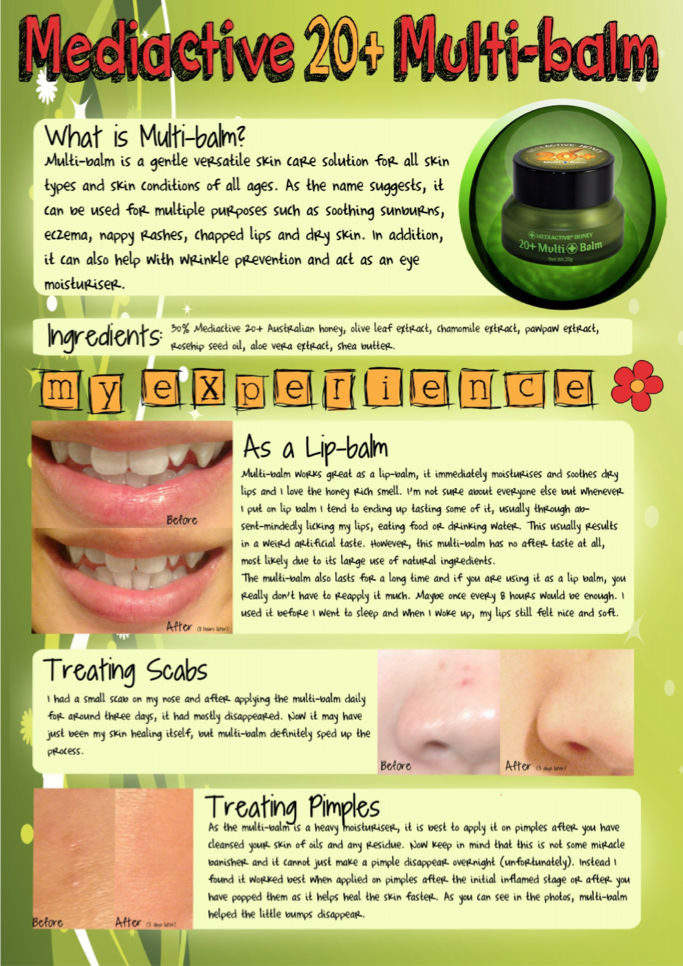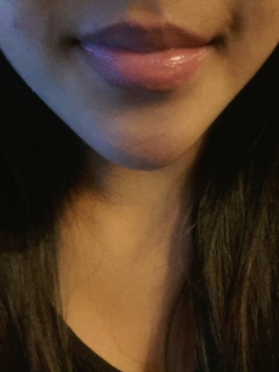 I used the Multibalm right away when I received it by express post on my lips because they were a bit cracked and dry and it worked wonders. I had to go out a bit later during the day and my lips were not cracked at all and were really hydrating, exactly what the description said. I left it to the last day before the review ended to write a good testimony for this product since I thought it would only be fair if I gave the product a fair go.
I was a bit hesitant using the Multibalm on my skin but I decided to try after the Multibalm worked so well on my lips. My skin is quite sensitive because I break out with pimples or my skin would become really red and itchy. I was too embarrassed to go anywhere cause of my skin after I used that acne cream and instead it got worst. I tried the Multibalm on the back of my hand first and then on my forehead and surprisingly the pimple that was there had disappeared. My skin was felt a lot better and was smoother than what I had expected. The smell of this product is great since it smells very natural but the honey is not very overpowering. Normally I dislike smelling strong scents of honey but the smell is not very strong so I actually enjoyed applying it. When I applied it on my lips, I could taste the honey slightly so the feeling was different from when I apply Vaseline because the taste of Vaseline is quite gross I believe. I'm around 3/4 through the product and I've started to use the product less because I'm using it very quickly because of the versatile nature of the product. Using it on lips and for my face does use quite a bit so I've reduced my used because I want to use this for as long as possible. My mum secretly used the product and then asked me where I got it a few days ago. I was actually surprised she liked it because her skin is very sensitive and she can't use lip balm unless its natural so generally she uses pure honey. If not then her lips become massive the next day, but cause the product was primarily honey and natural, it actually worked well for her.
I would recommend everyone to try this even though the ingredient is very simple like honey and aloe vera. Would certainly endorse the product to everyone, especially skeptical people such as myself. The "What people say" section on the website actually does not lie, my pimples disappeared and my dry lips and skin were now smooth. Those reviews are absolutely correct. The product actually does do wonders to pimples as well especially. The great thing about this competition is that I got this jar of this Mediactive 20+ Multi-balm and I'm in the chance of winning tickets to B.A.P as well! This product is a great hit, it works
well and I'm absolutely happy with the product and would happily recommend for personal use and even gifting to friends since it does work on sensitive skin.
First of all, I'd like to thank you for giving me this awesome product as a free sample! Alright, now let's go straight into the review!

I received the package in the mail on the 16th of April and when I opened it, I found the small product inside very cute. Personally, when going out, I like to carry with me smaller products that can easily fit inside my, thus why it was easy for me to take this sample of Multi Balm everywhere.
"Pawpaw Extract."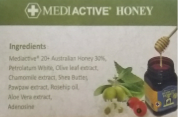 At first I was hesitant to use it because my skin (including body and face) is very sensitive and is only compatible with certain prescribed cream. After reading the label on the box carefully, I found out that it contained ingredients that were highly suitable with my skin such as "Olive Leaf Extract," "Aloe Vera" and My lips were always dry, thus why I am always using products such as Blistex, Maybelline's Baby Lips and Chapstick. The only problem with these products is that I have to constantly re-applying it on throughout the day because they don't last very long.
The plus side of the Multi Balm is that it actually lasts for some time and it smells light and nice. An example of this was when I first applied it on the 17th of April. I applied it onto two specific places which were my lips and a pimple spot on my face before going to bed that night. The next morning, surprisingly I could still feel the product on those two places.

I continued to use this product throughout the week, either before going out, after showering or before going to bed. Another plus side to this product is that it doesn't leave too much of a glistening, oily aftermath on the area. As shown in the lip picture on the right, it looks quite natural thus why it is suitable to wear when going outside.
After using the product for a few days, I was so surprise to see such a big change! My lips were not dry like they were before that and the pimple spot on my cheek that was there for a few weeks had actually begun to disappear. I continued to apply it to the same area for another few days and couldn't believe how smooth and soft my lips had become! This can be shown in the pictures below that I have taken throughout the process.
PROCESS (17th – 25th)
DAY ONE – 17th of APRIL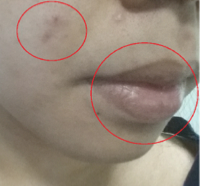 Dry, cracking lips
Pimple spot that hadbeen there for 2 weeks.
DAY 4 – 20th of APRIL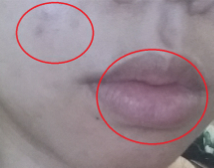 Even though the pimple spot is still visible, it was actually better and starting to fade.
Lips looking smoother
DAY 9 – 25th of APRIL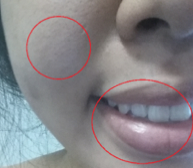 My lips are softer than ever at this point!
My pimple mark is actually… GONE?!
That I also like about this product is that every time I apply it onto my face, I don't have to put a whole heap. That is why my container is still practically full even 10 days since receiving it! It's going to last at least another month by this rate!

I am happy to give this product
out of 5! Personally, I like everything about it. The smell is very light and like honey, which I like! The actual cream itself isn't runny or googy, which means that if I dropped it, then it won't spill out of the container. I'm a very clumsy person myself, thus why that's a plus for me. Lastly, it actually works! Like shown above, my pimple mark disappeared after 9 days of using this and my dry lips actually look smoother than ever! I love it!
Now that I have tried it on myself and have worked, I am going to try it on my little brother who is 4 years old and has a very dry skin on his arms. If it successfully works on him, then I am bound to try and get my hands on some more!
Once again, thank you so much for sharing with me this wonderful product! Please send me any information regarding your future products because I am more than delighted to give it a try! I hope my review was detailed enough! Also, attached below is my signed declaration!